10

Billion shelf-stable CFUs per serving Soil-based organisms (SBOs) probiotics
1

Proprietary blend of animo acids, minerals and micro nutrients & therapeutic herbs
Non-GMO

Gluten Free

SOY-Free
Organic

Woman-led

Made in Canada
Reconnect to earth's healing properties

daily dirt offers space for your body to move into a healing state, realigning natural rhythms, like the effects of a day after walking in the woods or getting your hands dirty.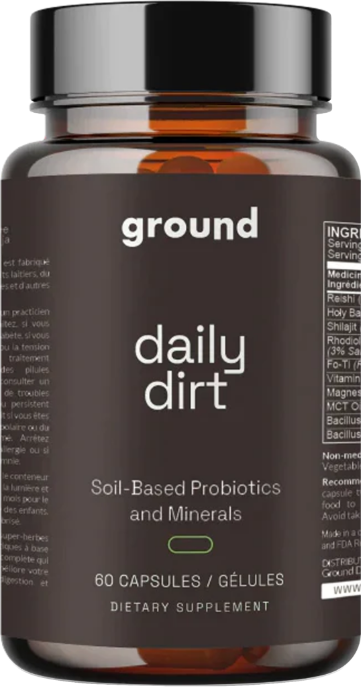 Button label
Why daily dirt
In the past, humans interacted with beneficial soil-based spores daily through activities like gardening, farming, and eating farm-fresh foods. However, our modern world has created more disconnect from the earth, and because of poor farming practices, our food has been stripped of necessary nutrients. daily dirt is a powerful tool to reconnect with the natural world around us. Our unique blend is designed to provide your body with the essential nutrients it needs to thrive. daily dirt contains trace minerals from the soil, soil-based probiotics, and super-herbs that will assist in improving digestion, boosting your immunity, and realigning your body to its natural vitality.